Sorry, no slides matched your criteria.
Zainab Engineering is a specialized Electric panels & Distribution Boards Manufacturer and Services Provider
and providing quality products to customers.
THE ZAINAB ENGINEERING is a wholly owned private company offering contracting services, particularly in the public and private sectors throughout the Pakistan. In response to market demands the Company has concentrated on developing a broad range of in house expertise specialising in the following activities:
Textile Processing
Textile Spinning
Textile Weaving
Food Industries
Chemical Industries
Banks
Fertilizer
Pharmaceuticals
Power Generation & Distribution
Schools/Colleges & Universities
Leisure Centres/Fitness Clubs
Hospital Installations, both Private & NHS
Office Developments
Retail Developments
Light and heavy industrial
Hotels
Apartments and Penthouses
Sports Centres
Restaurants
Health and Fitness Centres
Social Housing
To provide a level of service that will exceed the expectations of our clients, maintain the highest level of quality and allow our employees the opportunity to grow and prosper. To instil confidence with all parties by professionally managing all aspects of each and every project be it large or small.
We act with Integrity in all of our interactions never compromising our business ethics. This is the cornerstone of who we are as a company, and is essential to our future success.
The company has clear values, which are:
Safety – we care about people
Reliability – we have integrity
Responsiveness – we listen to what you say
We have a proven track record of effectively delivering diverse projects to a broad range of customers.
The management of The Zainab Engineering believes that customer (client) satisfaction is an important key to the success of our business. This message is cascaded throughout the company.
We have developed a comprehensive approach to customer care and to minimising defects on all our schemes. Our objective is to achieve customer satisfaction and repeat business by providing electrical solutions that conform to agreed requirements.
The Zainab Engineering has built its foundations on relationships with partners, associations, clients, contractors, and employees. Our reputation is based upon recommendations and this has helped set us apart from our competitors.
The code of conduct at The Zainab Engineering stems from traditional values within our workforce. Trust, honesty and understanding encompass many of our beliefs and for your own peace of mind we have implemented the following and will endeavor to:
Be polite, friendly and courteous
Maintain a high stand of professionalism
Carry cooperative and flexible attitudes
Acknowledge concerns
Be informative
Listen to feedback
The Zainab Engineering is an equal Opportunity employer. No applicant or employee receives less favorable treatment on racial, ethnic, sexual, disability or religious grounds.
We are committed to providing a working environment that is free from discrimination. Therefore, the company will try to ensure that no potential or actual member of staff will receive less favorable treatment on the grounds of ethnic origin, color, gender, disability, marital status, age, sexuality, or religion.
The Zainab Engineering undertakes to review periodically its selection criteria and procedures to maintain a system where individuals are selected, promoted and treated solely on the basis of their merits and abilities.
We recognizes its legal obligations including those under the Race Relations Act, the Sex Discrimination Act, the Civil Partnership Act, the Equal Pay Act, the Disability Discrimination Act, the Equality Act, the Fixed-term Employees (Prevention of Less Favourable Treatment) Regulations, the Part-time Workers (Prevention of Less Favourable Treatment) Regulations, the Employment Equality (Sexual Orientation) Regulations, the Employment Equality (Religion or Belief) Regulations and the Employment Equality (Age) Regulations.
Due to the nature of installation work, applicants for site staff with certain disabilities are unable to be considered. However applications for all other areas are welcomed.
We have employed a professional, prolific, experienced and dedicated team of around 40 people who are adept in their work related to manufacturing. These professionals work in tandem with each other to complete the task within the stipulated time frame. Hence, each product which comes out of the production unit is dexterously designed and constructed and of superior quality and finish.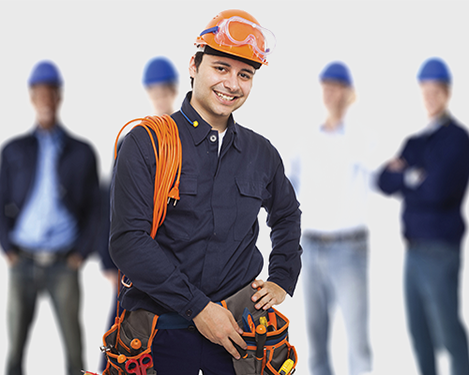 Client satisfaction & feedback
At The Zainab Engineering, we are constantly working to improve our quality of service to our customers
and want to hear feedback from our stakeholders.
In order to maintain our continuing high standards we issue a customer satisfaction report on all
completed projects that our customers may complete and return. This way we constantly monitor the
quality of workmanship through to the quality of management.
We have recently implemented a survey solution that enables clients to easily submit their insights,
performance score and feedback.
Supporting Local Communities
The Zainab Engineering is passionate about providing long-term employment opportunities within the
communities in which we work. We understand that education and training are fundamental in addressing
issues of aspiration and attainment, thereby creating opportunity for a dynamic, successful and modern
local economy.
We employ local labour and we recognise the importance of recruiting local people and how this can
stimulate economic regeneration within the community through wealth circulation.
The Zainab Engineering makes an agreement with our client to employ local people for electrical
installation projects. Within this local labour clause, we will:
– Endeavour to their best to employ a percentage of its workforce from local residents and
– Endeavour to take on local apprentices.
Training & Apprenticeships
The Zainab Engineering is committed to the sustainable future of the industry and offer training and
development opportunities in a wide range of electrical skills.
Over the years we have consistently demonstrated commitment to young people by striving to provide
sustainable employment and skills development opportunities in the community.
Our quality experts supervise production at every stage right from procurement of raw materials to the final finished product.
Equipped with the latest and sophisticated machinery, instruments technology and skilled team ensures production of the most superior,
reliable and cost effective products.